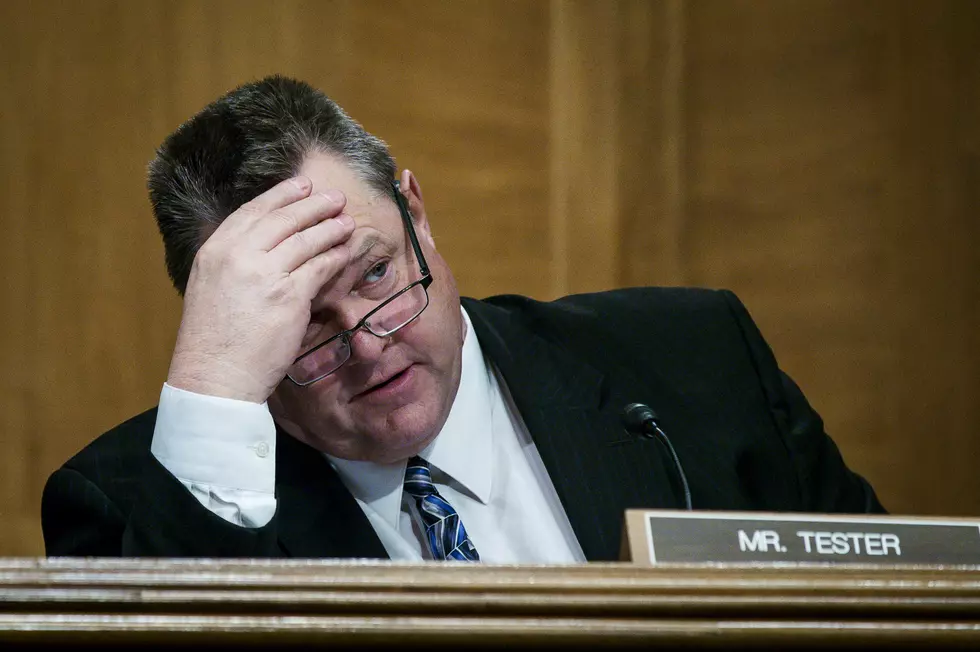 Montana's US Senate Race Too Close to Call
Pete Marovich/Getty Images
The Latest: Montana's US Senate race too close to call
By The Associated Press
The Latest on the general election in Montana (all times local):
11:45 p.m.
Democratic incumbent Jon Tester and Republican Matt Rosendale are locked in a Montana U.S. Senate race that's too close to call with votes still being counted.
Election results were still coming in Tuesday night. Rosendale was following the returns with supporters in Helena, while Tester told his supporters to go home for the night.
Tester is seeking a third term and faced a stiff challenge after President Donald Trump took a personal interest in defeating him.
The president vowed last spring that Tester would pay at the polls for sinking his first nominee for Veterans Affairs secretary.
Republican and Democratic groups spent tens of millions of dollars in an attempt to influence the election.
The Montana seat was one of 10 held by Senate Democrats seeking re-election in states Trump won in 2016.
___
11:15 p.m.
U.S. Rep. Greg Gianforte has a lead over Democratic challenger Kathleen Williams, but Montana's U.S. House race is too close to call with votes left to be counted.
Election results are still coming in Tuesday night as the candidates follow the returns with their supporters at separate watch parties in Bozeman.
Gianforte is seeking his first full term after winning a special election 17 months ago to finish the term of Ryan Zinke, who resigned to become Interior Department secretary.
Gianforte is best known for pleading guilty to assaulting Guardian reporter Ben Jacobs in 2017. The attack emerged as a campaign issue when President Donald Trump praised Gianforte for it during an October rally.
Williams is a former state lawmaker who benefited from a fundraising surge in the final months of the race. She sought to become the first Democrat in Montana's only House seat in 22 years.
___
10:35 p.m.
Votes are still being counted for ballot issues on extending Montana's expanded Medicaid program and imposing new cleanup standards on future mines.
Too many votes are outstanding late Tuesday to determine whether those citizens' initiatives had passed or failed.
Voters were deciding whether to raise the state's tobacco tax to help pay for the wider Medicaid program that covers about 96,000 people.
They also considered whether to require mining companies to submit proof that any future mines won't require the continuous treatment of polluted water.
Tobacco and mining industry groups have spent tens of millions of dollars to defeat the measures.
Two legislative referendums are also on the ballot. One would extend by 10 years a property tax benefiting the state's university system. The other would restrict who can turn in another person's absentee ballot.
___
8 p.m.
Polls have closed and the vote count has begun in Montana's 56 counties.
Voter turnout for Tuesday's election is expected to be significantly higher than the 2014 midterms, with the top race between Democratic U.S. Sen. Jon Tester and Republican challenger Matt Rosendale.
President Donald Trump gave the Montana Senate race a lot of attention, with the president campaigning in the state four times for Tester's defeat.
Voters also are choosing Montana's only U.S. House representative, 125 legislators, four ballot issues and a slate of other races.
Election officials reported busy polling places and long lines for late registration. Absentee voting had surpassed the 2014 election by nearly 113,000 votes as of Tuesday afternoon.
Election officials in Yellowstone and Missoula counties say complete results won't be available Tuesday night.
___
6:10 p.m.
Butte-Silver Bow County officials say people are waiting in lines for at least a half an hour to register to vote on Election Day.
Clerk and Recorder Sally Hollis says it's the largest turnout for a midterm election that she's seen as an election administrator.
In Great Falls, the late-registration line was an hour long Tuesday afternoon. Elections administrator Rina Fontana Moore says voting has been "nonstop" and could surpass turnout in a presidential election year.
The lines are one indication of high voter turnout compared to the 2014 midterms. Another is absentee ballot returns.
As of Tuesday afternoon, nearly 338,000 voters had cast absentee ballots. That's 144 percent of the number of absentee votes cast in 2014.
____
5:20 p.m.
Laurel voter Theresa Van Tine says she's hoping the 2018 election returns a balance of power so one party isn't dominating both Congress and the White House.
After casting her ballot Tuesday at the southcentral Montana town's high school, Van Tine said shared power would force Democrats and Republicans to work together to solve society's problems.
The 50-year-old Democrat says she depends on government disability checks to buy groceries and pay rent.
Another Laurel resident, Robin Smith, says the economy is getting better and immigration controls stronger under President Donald Trump.
The 62-year-old retiree says her family farms soybeans in northern Montana and took a hit when prices plummeted when the U.S. and Chinese raised tariffs on each other's imports.
She's still confident Trump is on the right course and just needs a Congress that will back him.
___
1:10 p.m.
Montana voters may not know the results of two ballot initiatives until Wednesday.
That's because Yellowstone County's ballot is two pages long, with the Medicaid expansion and mine regulation initiatives on a separate ballot sheet.
County elections director Bret Rutherford tells The Billings Gazette the county will release some preliminary numbers on the initiatives early and tally the candidate races before returning to count the rest of the initiative ballots.
Initiative 185 increases taxes on cigarettes and other tobacco products to help pay for the state's Medicaid expansion program, which provides insurance for 96,000 Montanans.
Initiative 186 would not allow the state to permit new hard rock mines if their cleanup plans require the perpetual treatment of water.
Polling indicates the initiatives are competitive and likely won't be determined without Yellowstone County's results.
___
12:10 p.m.
Helena resident Alice Elliott says she voted against a ballot initiative to extend the state's Medicaid expansion program by raising the tobacco tax because she believes both sides' ads were misleading.
The self-described Democrat said she voted for another citizen's initiative to add stricter cleanup standards to mines, but couldn't bring herself to vote for the tax measure because she wasn't fully informed.
The tobacco industry spent more than $17 million on a campaign to defeat the measure and health care groups spending millions more in support of it.
Elliott says she thinks both sides engaged in false advertising, and when that happens, she votes no.
She says there will be future opportunities for Medicaid expansion, which is set to expire next year, and the initiative's defeat will not completely close the door on it.
___
11:15 a.m.
Five precincts in Missoula County are having random troubles with feeding the second page of the ballot into counting machines.
Elections administrator Dayna Causby says the issue shouldn't affect statewide election results because those pages contain mostly city and county bond issues.
Causby says the software company isn't sure why they're having difficulties feeding about one in every 10 ballots. She says those ballots will have to be counted by hand tonight.
The Missoulian reports the problems are at the Lewis and Clark, St. Joseph's, Hellgate and Russell polling locations. Voters are asked to allow a little extra time to vote.
___
9:55 a.m.
Hatred and intolerance, in particular against the LGBT community, was the primary motivator cited by Billings Democrat Lynne Fitzgerald as she cast her ballot in Montana's closely-contested U.S. Senate and House races.
Fitzgerald, an assistant professor of outdoor leadership at Montana State University Billings, says Republicans like Montana Rep. Greg Gianforte shouldn't be in positions of power.
She wants to elect candidates who are more open-minded and accepting toward lesbian, gay, bisexual and transgender people and others.
On Tuesday, that translated into votes for Gianforte's Democratic challenger, Kathleen Williams, and incumbent Democrat Jon Tester for U.S. Senate.
Tester is being challenged by State Auditor Matt Rosendale, an avowed loyalist to President Donald Trump. Fitzgerald blames Trump for separating the country and trying to take away individuals' rights.
___
9 a.m.
Montana computer technician Doran Hatcher had a singular goal in mind as he trudged through a cold, snowy morning to cast his ballot in Tuesday's election: Help President Donald Trump.
Hatcher, a 52-year-old Republican from Billings, said Trump needs all the support he can get from Congress to "drain the swamp" in Washington. And that means Democrats like Montana U.S. Sen. Jon Tester have to go, Hatcher says.
He voted for State Auditor Matt Rosendale to replace Tester, who is seeking a third term after winning narrow victories in the Republican-leaning state in 2006 and 2012.
Rosendale's candidacy has been boosted by repeated visits to Montana by Trump.
Polls close at 8 p.m.
__
7:20 a.m.
Most polling places in Montana are open for the 2018 general election.
The polls are open from 7 a.m. until 8 p.m. Tuesday with the exception of very rural areas, which are allowed to open at noon.
Snow was reported in Bozeman, Butte and Great Falls this morning, but the National Weather Service says its winter weather advisory will expire at 8 a.m.
Temperatures are expected to reach highs mostly in the 20s and 30s across the state.
Through Monday, nearly 324,000 Montanans had cast absentee ballots.
___
11 p.m.
The outcome of Montana's hotly contested Senate race may come down to which side did a better job of motivating their supporters to show up on Election Day.
Tuesday caps an extended 25-day voting period in Montana's midterm elections, with the top race being the battle between Democratic Sen. Jon Tester and Republican challenger Matt Rosendale.
The candidates and political observers say there aren't many undecided voters left in the race after a record amount topping $67 million was spent to influence their choice.
Both Tester and Rosendale have spent the last days of the campaign focused on getting their supporters to the polls.
Voters also will be deciding whether to give Republican U.S. Rep. Greg Gianforte his first full term in office against Democratic challenger Kathleen Williams.
More From KMMS-KPRK 1450 AM