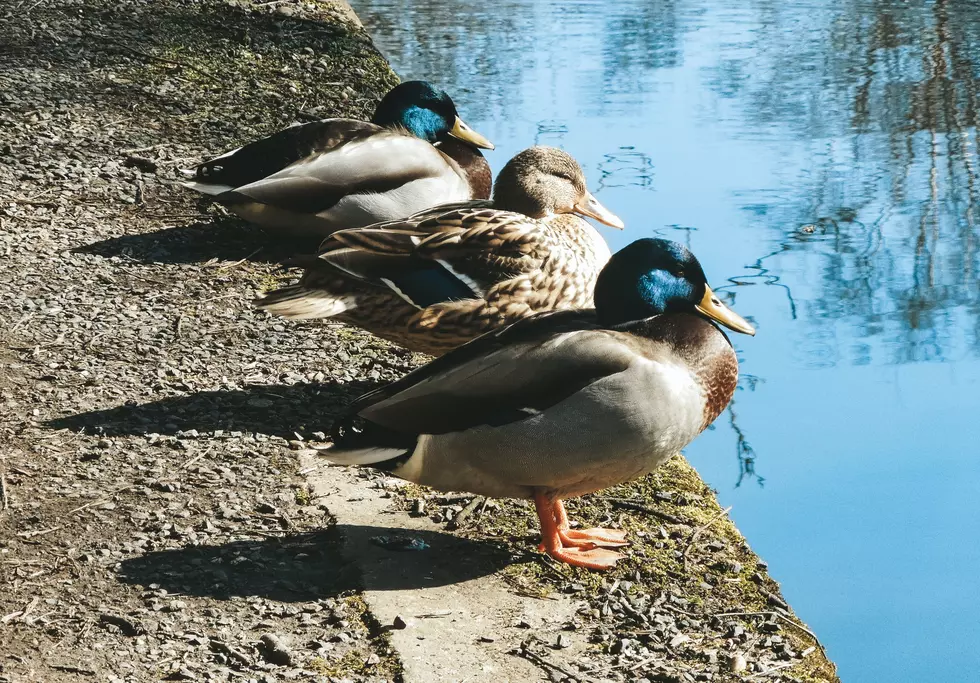 Bozeman's Best Duck Ponds, and How to Keep Them That Way
Alexandra Lawrence - Unsplash
Grab some frozen peas (not bread!) and enjoy these duck ponds in the Bozeman area.
Sometimes it's nice to be a kid again and relax beside a good duck pond. I've always enjoyed watching them doing their duck things, along with other birds that make our ponds their home. Herons and cranes are an added bonus in my book but I'm not picky. I visit our duck ponds just to chill out for a few minutes...whatever wildlife is there at the time is fine with me.
We picked a few options to highlight here that aren't the norm. Of course, the MSU duck pond, the East Gallatin Rec Area, and the Bozeman Pond area are great options. (The East Gallatin and Bozeman Pond areas are definitely the largest choices you have in the Bozeman area with picnic tables, "beaches", fishing, and walking options on-site.) We thought we'd give you some quieter options as well, though.
IMPORTANT NOTE: Don't feed the ducks bread or crackers. I'm not sure why almost everyone is taught as a kid that it's OK to do that, but it's not at all good for the ducks or other birds...it can kill them. And we want to keep these ponds vibrant with wildlife. Not to worry, though—as long as you don't feed them too much or leave extra food in the water, there are several items that are fine.
WHAT FOODS ARE OK TO FEED THE DUCKS? According to the Frisco Public Library: "Feed ducks cracked corn, oats, rice, birdseed, frozen peas (that have been defrosted), chopped lettuce, or sliced grapes. These foods are similar to natural foods ducks will forage for on their own."
According to OutdoorAlive: "Vegetables such as corn, broccoli, cucumber, and zucchini along with beet, sweet potatoes, carrots, and radishes are not only healthy but also very much loved by ducks."
Let's get to the list. The following suggestions for Bozeman area duck ponds are placed in no particular order. They are very different nooks of nature around town, and some are much more easily accessible than others.
CHERRY RIVER FISHING ACCESS: Right after North 7th Avenue naturally curves west into Frontage Road, you'll easily find this pond with a very decent parking lot. This is my personal favorite for watching ducks and other birds for two reasons: it's very easy to get to but still feels a bit out-of-town. Second, there are rarely people here. Let's take good care of this one...it's a lovely gem of this town.
POND ON NORTH 11TH SOUTH OF BAXTER: This is an unofficial park that I've mentioned before as a nice, easy place to find to get away from the office for a few minutes. You'll find this pond on North 11th Avenue, between Baxter and Oak. (It's basically behind the Homewood Suites by Hilton.) It's easy to pull over, place a camp chair, and enjoy the surprising variety of ducks and birds at this secret pond.
CATTAIL STREET POND AND TRAIL: Located west of the WinCo, Petsmart, and Target complex, you're going to find an excellent urban trail to walk along with amenities such as a basketball court on one side of the street and a decent sized pond normally full of ducks on the other. Easy to find once you know where you're going. Residential, so please drive carefully. (See Google Map below for its exact location.)
Check these out for a relaxing lunch break, a nice picnic with friends, or just a quiet Sunday morning, and remember to take care of the ducks!
LOOK: Historic 2022 Flooding in Southern Montana Not Soon to Be Forgotten
Widespread flooding wiped out roads, bridges, buildings, and powerlines throughout riverside communities from Yellowstone National Park and Paradise Valley to Red Lodge. The Yellowstone River winding through Billings crested Tuesday, June 14, 2022. At 11:30 a.m. the National Weather Service in Billings reported the river rose above flood stage and was forecasted to hit 14.7 feet, nearly hitting the 15-foot record set in 1997.
More From KMMS-KPRK 1450 AM