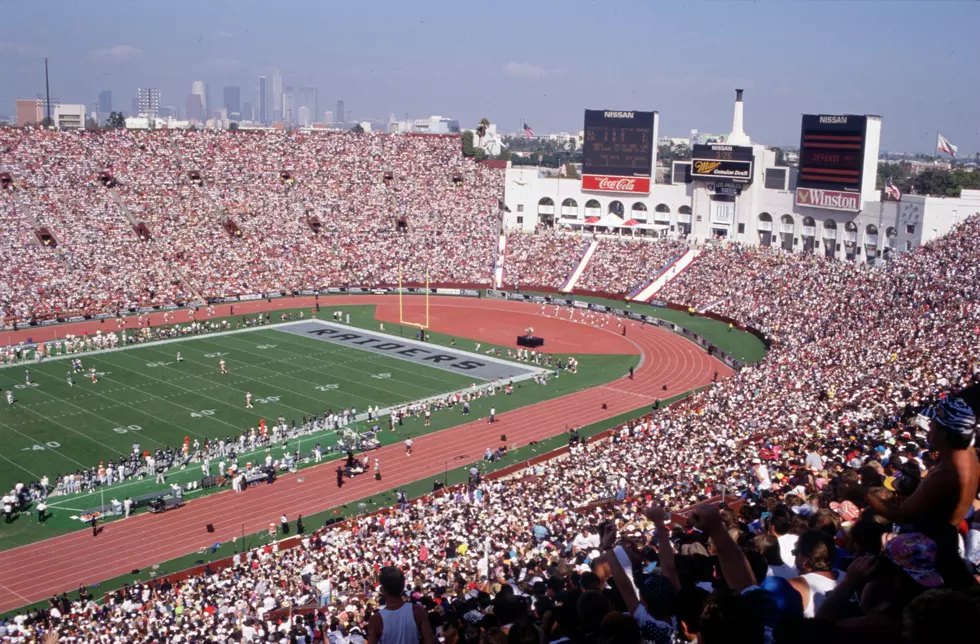 Friday Fun Facts About Pro Football
29 SEP 1981: A VIEW OF THE LOS ANGELES MEMORIAL COLISEUM FROM THE PRESS BOX WITH A SKYLINE OF LOS ANGELES IN THE BACKGROUND DURING THE RAIDERS 12-6 VICTORY OVER THE SAN FRANCISCO 49ERS. Mandatory Credit: Marcus Boesch/ALLSPORT (Getty Images)
Yes, it's that time of year again. The draft is over, the draft picks are being signed and preseason pro football has begun. Time to put on the team jersey, paint your face, and get ready to act like a complete idiot for three hours on a Saturday or Sunday afternoon. So whether you're a fan or not, here are a few things you might not know about the boys who play with the pigskin.
Fun Facts About Pro-Football
A cow has a better chance of winning the lottery than becoming an NFL Super Bowl football. Six hundred cows provide a full season of NFL footballs but only 1 in 17, 420,000 will make the cut so to speak to be a Super Bowl football.
Walter Payton (1979) and David Patton (2001) are the only two players who caught, rushed and threw a touchdown pass in the same game against the same team.
In 1983, Tony Dorsett scored a 99 yd. rushing touchdown. The only player to do so to date.
Football players make big bucks but within 2 years of retirement 78 percent will file for bankruptcy. I guess that's not really a fun fact — just a fact.
My wife wonders why football games take 3 hours to play. It may surprise you to know that the ball is only in play for about 11 minutes during those three hours. Replays take up about 56 percent of the time. Sixty percent of the time is taken up with shots of the sidelines, the huddle, or players just walking around the field between plays.
If you want to get more TV time, get injured. Injured players get six seconds more TV face time than those celebrating after a sack or touchdown.
Where would we be without cheerleaders? Their average age is 25 and the most famous are the Dallas Cowboy Cheerleaders who were originally called the "CowBelles and Beaux" (French for Boys?). Like college teams they started with both men and women.
 TV producers always show a little of the Cowboy Cheerleaders, other teams, not so much.
You won't get rich being a cheerleader. Their $50 - $75 dollar per game paycheck is mostly eaten up with makeup, dance, and going to the health club to keep that girlish figure in shape.
Cheerleaders get about 3-4 seconds of air time while coaches and refs get about 7% of the TV face time.
The Bears, Browns, Lions, Giants, Steelers and Packers are the only NFL teams that don't have cheerleaders. As a result Super Bowl XLV between the Steelers and Packers was the first Super Bowl without cheerleaders.
For all you Packer fans out there, the "G" on the packers helmet doesn't stand for Green Bay. It stands for "Greatness."
Some Final Thoughts
I guess when it comes down to athletic ability you'd have to go with Deion Sanders. He's the only person to play in a World Series and a Super Bowl. And also the only player to score a touchdown and hit a major league home run in the same week. The weekend is here. Pre-season action tonight. Get the corn poppin'.
More From KMMS-KPRK 1450 AM