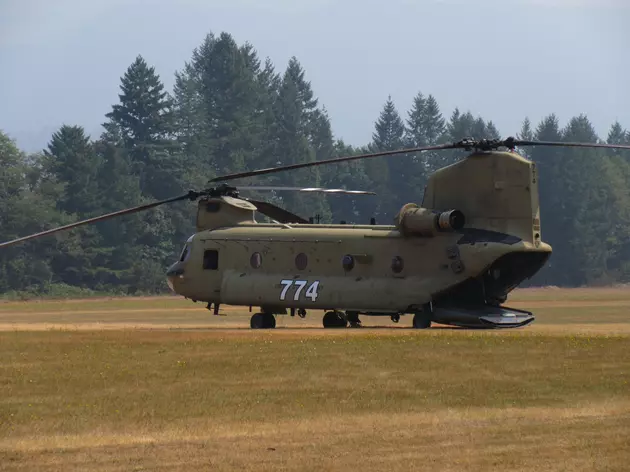 Four Helicopters and over 200 National Guard Soldiers Deployed to Help Fight Fires in Montana
Photo courtesy of inciweb
An emergency declaration by Governor Steve Bullock this fire season has led to the use of Montana National Guard members on two major western Montana fires. National Guard Captain and Public Affairs Officer Ryan Finnegan, says even more National Guard Members will be deployed soon.
"The latest information that I have is that as of tomorrow, August 23, 222 soldiers are going to be supporting fire operations," Finnegan said. "That includes 25 soldiers that are going to the Meyers fire to do security checkpoints on the ground and 155 soldiers that are headed out over the weekend to the Lolo Peak fire, supporting ground operations."
The National Guard is also deploying air support.
"The helicopters are dropping water on the fires. We have two types of helicopters that people might see: first we have the CH-47 Chinook which is a helicopter with two propellers and that drops 2,000 gallons of water on a fire every time and then the other helicopter people might see is called the UH-60 Blackhawk and that's dropping 600 gallons of water each time."
The fire situation in Montana this year is not entirely unique and the National Guard is trained in this type of operation. In 2015, there were three helicopters, 54 soldiers and two ground fire crews deployed by the National Guard in Montana. By the end of the 2015 fire season, those helicopters had dumped approximately 2.2 million gallons of water on fires.
More From KMMS-KPRK 1450 AM