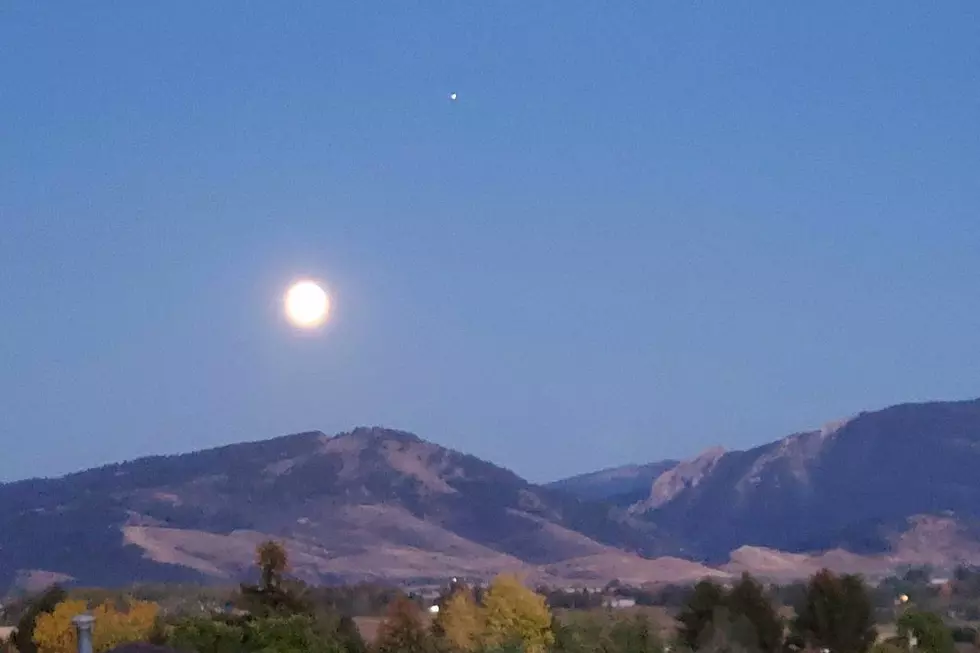 Big, Orange Full Hunter's Moon Tonight: What to Expect
photo: Michelle Wolfe
The Bozeman area should be in for a real treat tonight, October 9th. Weather looks good for what should be a really big, orange hued full moon.
Sunday, October 9th is when we'll be getting this full Hunter's Moon shortly after sunset. The last few evenings have been stunning already with good timing and perfect weather. Fingers crossed that Mother Nature continues to cooperate.
OK, so what exactly is a Harvest Moon and why is it special? According to Almanac.com:
The full Moon this month was called the Corn Ripe Moon by the Taos. Similarly, it was named the Ripe Corn Moon by the Laguna.

The Nez Perce called this the Falling Leaves Moon and it's hard to argue with that.

But it was the seasonal Moon name used by the Algonquin tribe that also became a term used by modern astronomers: the Hunter's Moon.
With 73 days until Winter officially begins, southwest Montana has been enjoying a fantastic start to Autumn. The weather has not been harsh with cold snaps or snow, except for the mountains. Clear evenings are allowing for super interesting night skies. Thankfully, we should be clear again tonight for the full Harvest Moon.
The moon will rise at approximately 7:00pm tonight, Sunday, October 9th, 2022. The full moon will appear larger than it normally does AND it's supposed to have an orange hue! How cool is that? Space.com continues with these Harvest Moon details:
The Hunter's Moon is the first full moon to follow the Harvest Moon  —  which fell on Sept. 10 this year.

The Harvest Moon itself is the first full moon after the autumnal equinox that signals the start of fall in the northern hemisphere.

This makes the Harvest and Hunter's moons unique as the only full moons that are tied to an astronomical event and can actually happen in different months.

 
Montana Loves to Show Off Gorgeous Fall Colors
Everyone knows that Montana is full of beauty, but fall is a really special time of year. The only drawback is that the season often doesn't last very long. Because of Montana's volatile weather, autumn sometimes only shows it's pretty face for a week or two.
More From KMMS-KPRK 1450 AM