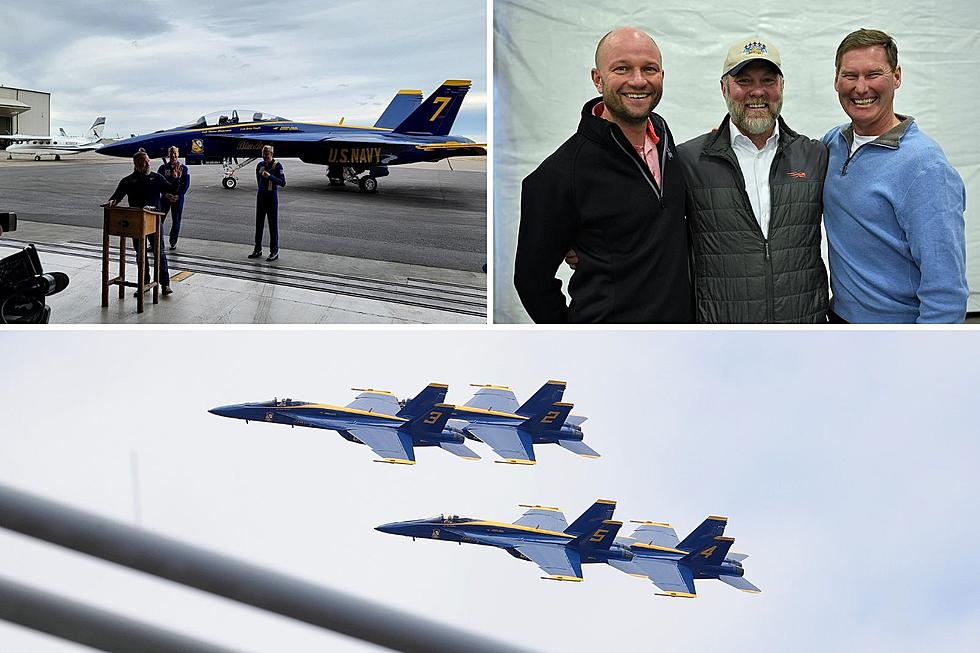 Montana Gets Ready for the Blue Angels in Billings
Credit Aaron Flint/ Rachel Helgeson/ Getty Images/ Canva
For a long time I only knew him as "Thumper." The guy in the light blue sweater in the above photo. That's "Thumper." He lives in Bozeman, Montana and he's actually a retired brigadier general, but everybody still calls him "Thumper"- his call sign from when he flew with the Blue Angels.
Thumper teamed up with Jake Penwell and Matthew McDonnell, and now a lifelong dream is about to turn into reality later this week for those two Billings men.
Jake Penwell and Matthew McDonnell, two longtime friends from Billings, co-chair the planning committee for the Yellowstone International Air Show. Jake was moved by seeing the Blue Angels as a kid in 1988, and was inspired to join the Navy. Since then, he's wanted to bring an airshow to Billings that would do the same for the younger generation today. (As Rachel Helgeson wrote back in December of 2021 when the big news was announced that the Blue Angels put Billings, Montana on their show list)
7 months ago we captured the moment as the first US Navy Blue Angels jet landed in Billings to go over air show plans. The turnout from the public was huge- even just for one aircraft.
If this is what it looked like on that Friday afternoon 7 months ago, imagine what kind of crowd will show up for the full air show later this week:

One of our Facebook friends commented at the time:
I work at a elementary school as a lunch recess aid, and our 4th graders were outside at recess at the time the fly over happened, and the kids were Soo excited. They kept running all over the playground just to try to get another glimpse of the jet.
Click here for more of our air show coverage.
The Yellowstone International Air Show is taking place August 12th and 13th in Billings, Montana.
If you haven't gotten tickets yet, Saturday is SOLD OUT, but last I heard tickets for Sunday's show are still available. Click here for tickets. Click here for more info on parking.
LOOK: Baby boomer baby names that have gone out of style
Using info from the Social Security Administration's baby name database,
Stacker
compiled a list of baby boomer baby names that have declined in popularity.